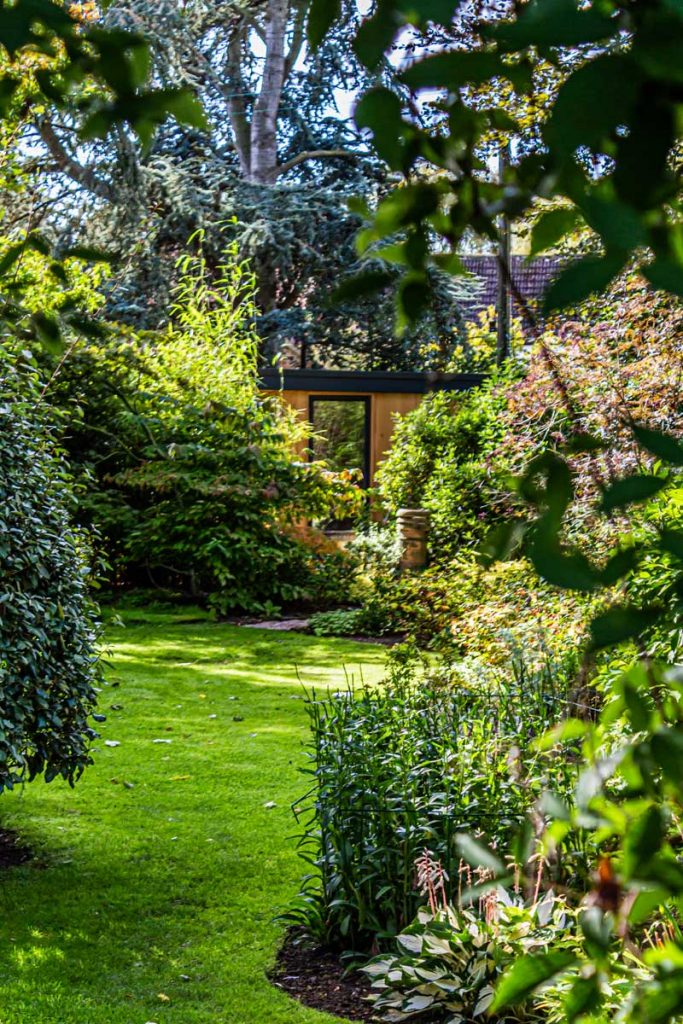 The Horto Garden Room Enchants in a Secret Garden
Under a leafy canopy, down an intriguing path that curves and passes through a small opening in a hedge, a secret garden emerges filled with shrubs, tall flowers and a small glade of shady trees. It is tranquil, serene and secluded.
The path narrows further and something unexpectedly hidden invites exploration. Curiosity leads to amazement on finding an enchanting Horto garden room, which shelters among garden roses and perennials. This loveliest, most surprising and delightful secret garden that anyone could imagine, was created by Graham Scott and his wife Lorna at their home in Nun Monkton near York.
Graham says "although our garden is narrow, it is generously proportioned and we had the scope to divide the garden into a series of spaces, each having a different character. We didn't want a garden that was straight and instantly readable, but one that had curving paths, a variety of textured colour; in addition a garden that suggested something hidden and invited further exploration".
Lorna adds "we are really happy with the Horto garden room; it perfectly blends into the garden and is such a natural, peaceful and personal space in which we can both escape. I enjoy looking out from the garden room and feeling a part of the beautiful variety of colours in the garden and watching the seasonal changes".
"We have a garden room that is exactly what we wanted, if not better" says Graham "from our initial inquiry right through to completion we were delighted with the service we received. At no time did we feel we were 'just another sale' and Gary and Neil did everything possible to give us the room we wanted. We did look at other providers, but none of them came close to the standard that we received from Horto"
Both Graham and Lorna agree that an important and free service offered by Horto, is the security of the Consumer Protection Association (CPA) insurance. Ellen Robinson from Horto explains "The CPA is an insurance backed guarantee and deposit protection scheme, which is intended to give our clients the peace of mind that their investment is safe when purchasing a garden room from Horto"
Finally Graham adds "nothing was too much trouble for Horto. We were also involved in all decisions about lighting, power points, flooring and the final finish. The guys worked hard all day, fuelled only by the odd cup of tea/coffee – and cake!! I think the cake made all the difference! I have no hesitation in recommending Horto if you are planning an outdoor space".